Luminous Software Solutions
The All-In-One Creative & Digital Agency
Unlock the full potential of your business with our cutting-edge marketing software and creative solutions. From social media management to content creation and market research, our team of experts will craft a personalised strategy to help establish and grow your brand. Don't settle for average results, let us elevate your marketing game and drive real, measurable success.
Website • Logo • SEO • Hosting • Domain • Google Business
Care Valley Disability Services
Website • SEO • Hosting • Domain • Google Business
Imperial Excavations Group
Website • SEO • Hosting • Domain • Google Business
Refine Electrical Services
Website • SEO • Hosting • Domain • Google Business
Website • Logo • SEO • Hosting • Domain • Google Business
Website • SEO • Hosting • Domain • Google Business
Website • SEO • Hosting • Domain • Google Business
Website • SEO • Hosting • Domain • Google Business
Website • SEO • Hosting • Domain • Google Business
Website • SEO • Hosting • Domain • Google Business
Website • SEO • Hosting • Domain • Google Business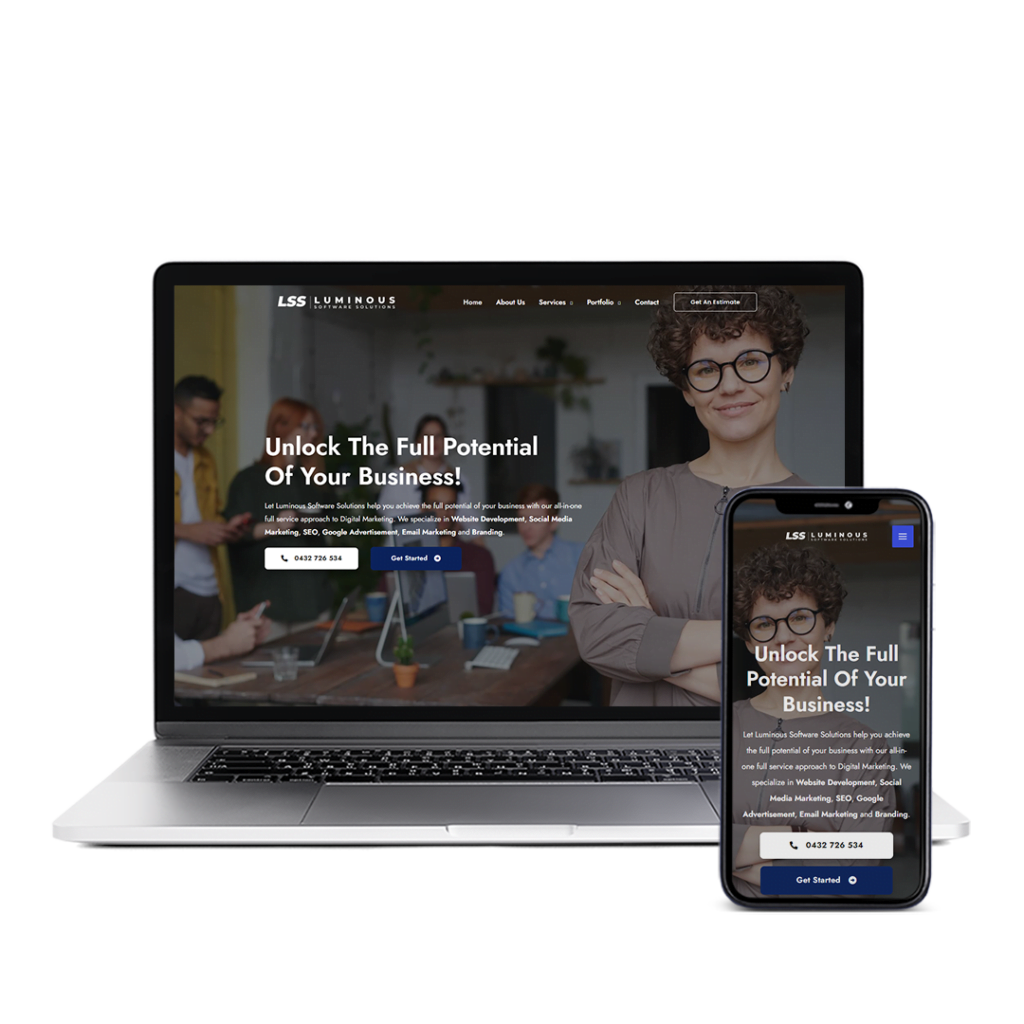 Luminous Software Solutions
Website • Logo • SEO • Hosting • Domain • Google Business
Our Frameworks & Technologies
Adrian Lock
23 August 2023
Very professional service and easy to deal with. Answered all my late night calls and messages and helped get my website live would recommend to everyone.
Jibrael Sobh
13 August 2023
An Absolute Pleasure Working With Luminous software solutions. The Team At Luminous software solutions Were very easy to deal with and reassured any of my doubts. Completed My Website On Schedule & Exceeded My Expectations. Highly Recommended
doublekdominate subaccount
14 May 2023
Best in the business for websites and marketing services
Called regarding a website for my business and Khodar ran me through the entire process. Explaining different websites and packages they offer. Choose to go with the one page website and I couldn't have been more happier with the finished website. Website is so clean, responsive and also allows for clients to request quotes for selling their car! Thanks Khodar and the team at Luminous Software!
Mohamad El-Helou
9 May 2023
Got my business logo and website designed by Luminous and I'm so happy with the branding for my business!
sabrine elhelou
28 April 2023
Got my business logo, website and Google Business profile built and optimised by Luminous Software Solutions. Honestly the best in the business! Process was smooth and so very easy. Worked collaboratively on building my website. Everything was flawless from start to finish. Highly recommend to anyone starting a business or wants a glow up for their business.
Fantastic web design business that created a stunning plumbing website. Definitely recommending my friends.
Mahmoud Elfata
16 April 2023
The team at Luminous Software Solutions delivered a splendid website on time and budget, exceeded my expectations for design, functionality and results. Highly recommend them for their professional and reliable service. Thanks Khodar and team for the work done.
Hussein Moukhaiber
6 April 2023
Luminous software solutions, are bunch of great guys! Built my business website and had all the optimisation that comes with it all sorted. Couldn't have been more happier with the final outcome. Will highly recommend to anyone looking to get their business up and running to give Khodar a call
Rodger Herrad
2 April 2023
Luminous Software Solutions built my business website, improved my SEO and Google business page. I'm so happy with the overall service! 5 stars
What is a Digital Marketing agency?
A digital marketing agency is a company that specialises in online marketing strategies and services, such as web design and development, search engine optimisation (SEO), social media marketing, business branding, and Google advertising.
Digital marketing agencies work with businesses to create and implement effective digital marketing strategies to improve their online presence, reach a wider audience, and increase revenue.
Why is Web Design important for my business?
Web design is important for your business for several reasons. A well-designed website can create a positive user experience, increase engagement, and help build credibility with your audience.
A website with a user-friendly interface, easy navigation, and relevant content can encourage visitors to spend more time on your site and increase the likelihood of them taking a desired action, such as making a purchase, filling out a contact form, or signing up for a newsletter. In addition, a professional and aesthetically pleasing website design can help establish trust and credibility with potential customers and differentiate your business from competitors.
Overall, a strong web design can help attract and retain customers, drive conversions, and ultimately grow your business.
What is SEO, and why do I need it?
SEO stands for Search Engine Optimisation, and it refers to the practice of optimising a website to improve its visibility and ranking in search engine results pages (SERPs).
When people use search engines like Google to find information, products, or services, they typically click on one of the first few results that show up on the SERP. Therefore, if your website ranks high in the SERP, you have a better chance of attracting more traffic to your website and generating leads or sales.
SEO involves various strategies and techniques, such as keyword research, on-page optimisation, link building, and content creation, to improve the relevance and authority of a website in the eyes of search engines. By implementing these strategies, businesses can increase their chances of ranking higher in search engine results pages, which can lead to more traffic, leads, and revenue. In short, SEO is a critical component of any digital marketing strategy, as it can help improve your online visibility, credibility, and profitability.
Social media marketing is the process of using social media platforms to promote a business or its products and services. Social media marketing can help businesses reach their target audience, increase brand awareness, and engage with customers and potential customers.
Social media marketing typically involves creating and sharing content on social media platforms such as Facebook, Instagram, Twitter, LinkedIn, and others, as well as interacting with followers and customers. The content can include text, images, videos, and other types of media.
To be successful in social media marketing, businesses need to develop a social media strategy that aligns with their overall marketing goals and objectives. This may include identifying their target audience, selecting the most appropriate social media platforms, creating engaging content, and monitoring and analyzing social media metrics to track the success of their campaigns.
By engaging in social media marketing, businesses can create a strong online presence, interact with their customers and build a loyal following, and ultimately drive more traffic and revenue to their website.
What is branding, and why is it important?
Branding refers to the process of creating a unique name, design, symbol, or other feature that identifies and distinguishes a business from its competitors. A brand can help convey a company's values, personality, and unique selling proposition, and create a sense of trust and familiarity with customers.
A strong brand can have several benefits for a business, including:
Differentiation: Branding can help a business differentiate itself from its competitors and stand out in a crowded marketplace.
Recognition: A well-established brand can create recognition and familiarity with customers, which can lead to repeat business and referrals.
Credibility: A strong brand can help build credibility and trust with customers, as it can communicate a sense of professionalism, quality, and consistency.
Loyalty: A strong brand can help create customer loyalty and advocacy, as customers are more likely to choose a brand they trust and have a connection with.
Overall, branding is important because it can help a business create a strong identity, stand out from the competition, and build a loyal customer base, all of which can contribute to long-term success and growth.
What services does Luminous Software Solutions offer?
Luminous Software Solutions provides services such as software development, web development, mobile app development, UI/UX design, and digital marketing.
How experienced is Luminous Software Solutions in the industry?
Luminous Software Solutions has been in the software development industry for over 5 years and has successfully delivered over 100 projects to clients worldwide.
Let's us handle your next project